Fixed Telecentric Optics on an Articulating Head

High-Speed 2D Measurement
SmartProbe is a unique video sensor capable of being mounted on an articulating probe head for FlexPoint systems providing high-speed 2D measurement.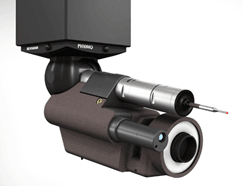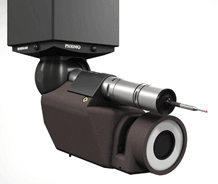 Fully telecentric with a large 12.5 x 9.5 mm field of view, SmartProbe allows for non-contact measurement of features that cannot be measured by probe or those where faster measurement with video is preferred.
An included green LED ring light with multiple sectors allows for programmable control of both direction and intensity to measure difficult edges with ease.
When combined with scanning probe and TeleStar Probe, the patented VersaFlex sensor array allows for three simultaneously available sensors on an articulating head unlike anything else in the industry. Having all sensors available for immediate use eliminates the need for time consuming tool changes and recompensation.
Book a free demo at our Advanced Innovation Centre where you can see the SmartProbe in action to witness how it can be incorporated into measurement routines.